Would you answer the call?
It is said that when a person makes plans, God laughs. Last week, my week was planned. I knew what I would be doing and when. Over the years, I have become more flexible with my schedule, but I still have a schedule. Tuesday morning shifted my schedule. Most mornings my adopted dog Güera and I meet up with a neighbor and her dogs to walk. Tuesday was no different, until the dogs stopped by a field. When we came to the field, we found a severely dehydrated and malnourished dog.
We could have left. We both had work. We both had plans. We both had busy days. None of that seemed important anymore. A meditation teacher from Myanmar once said, "When the sunshine of loving-kindness meets the tears of suffering the rainbow of compassion appears." The rainbow of compassion took hold of us, and we could not help but assist this dog. A mutual friend was called and arrived with water. Cautiously approaching the dog, for we did not know if it was vitious or diseased, we gave it two liters of water which it greedily ate up. The dog could not stand. It stretched with its neck to get to the water. Food was also brought but untouched. Later that day I returned with water which again was met with approval. The dog was about two feet from where it had been, but again showed no signs of being able to stand up or move freely.
I had plans the next day, which were rearranged again to bring food and water to the little girl. Day two she was up a bit on her front paws, and she greedily ate everything we brought to her. Two meals were consumed within minutes. We were glad that she was looking a bit better, but she was obviously dragging her hind legs. We didn't know if she was in an accident. We didn't dare touch her, because we had no idea if she would bite us to protect herself.
Day three, after again adjusting my plans, I fed her in the morning then returned in the afternoon with a different friend. We were thrilled to see that she was now using three of her legs. Having planned to bring her to a veterinarian that day for examination, when the time came, we did not have the courage. If her one leg was injured, it was quite possible that she might defend herself if there was pain when we picked her up. The trip to the vet did not happen, but I did get close enough to her to pet her. She accepted it calmly. Her eyes and demeanor clearly showed that she was not a threat.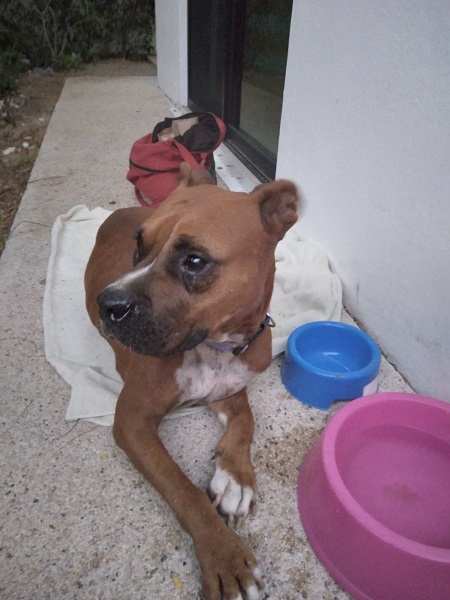 Friday, day four, after again shifting my schedule to accommodate this injured dog's needs, I was accompanied by a dog trainer and some lovely people who often rescue dogs. We were all surprised to see Boxie, who had been named day two because she looked part boxer, was up on all four legs. Compared to how she had looked only a few days before this seemed a miracle. The current helpers were skillfully able to transport the dog to a very accommodating and supportive veterinarian who checked Boxie out. She did not have any major diseases and was just suffering from malnutrition and the normal bugs one would expect to find on a dog that was left in the wild. That evening Boxie came home with me because she had nowhere else to go. She is now recuperating at a shelter, as my own adopted dog was not adjusting well to our houseguest.
Besides a plug below requesting your help to find a home for this sweet girl, I also wanted to share some of the lessons this experience gave me.
The Pause: In my old Type A ways, had I rushed to get Boxie to a veterinarian the first day they may have put her down because of her condition, I would not have found the right people to help me move her, and I would not have found the shelter who took her in. Although it took conscious effort to not rush into things, every time I allowed myself to pause, the next right step appeared.
The Ego: I felt so much guilt the night after I brought Boxie to the shelter. It was not because she was not being cared for, but because I should have done it. I should have rescued her and taken her in. I was a bad person. All the guilt and remorse I felt was my ego taking on a role. I knew in my heart, not keeping her was the right thing for Boxie, my dog Güera, and our family. When I took away my expectations and judgments, I found serenity in my actions.
Purpose: My life had become pretty routine lately, and I felt trapped and unsatisfied in that routine. When faced with an opportunity to do something new and to help someone else, it gave my life purpose. When I could put aside my schedule, the flexibility gave me the ability to connect with others, help save a life, and bring together a community of support. #TeamBoxie
As you go about your week, keep your eye out for opportunities to help others, act as guided when you receive intuition, remove egoistic expectations and judgments, and rediscover your deeper purpose for living.
If you are interested in helping Boxie find her forever home, please contact me or Rescate Perruno. Rescue dogs are routinely sent from Los Cabos, Mexico to the USA and Canada. We'd love to show you how easy it would be to have this darling become part of your family.