Yoga and other mindfulness practices talk a lot about the ego and surrendering the ego. Thinking that the ego meant the self and being raised a Catholic where I heard many times it is better to serve and give to others, I interpreted surrendering the ego to mean that we are meant to be self-sacrificing. That we should release our desires and remove all selfishness. That we should be humble and put others first no matter the personal discomfort. For me this led to a life where I did not take care of myself. By putting everyone and everything else first, I became a neglected last. I thought that surrendering my ego meant surrendering my basic needs.  I'm going to attempt to explain what I have learned over the years.
Self Care
First, unlike what I assumed, surrendering the ego is NOT giving up our essentials needs. You are the only person responsible for you. Therefore, feeding and caring for our own bodies, minds and spirits is and should always be our primary concern. This does not mean intentionally harming or taking from others to satiate our desires. It does mean that we need to care for ourselves. If we don't take care of ourselves, we can not care for anyone else nor truly live our purpose.
Ego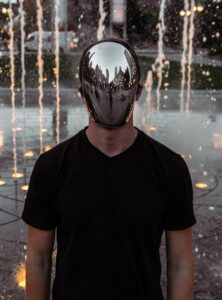 If our bodies, minds and spirits are not are ego, what is ego? The Cambridge Dictionary defines ego as "the idea or opinion that you have of yourself, esp. the level of your ability and intelligence, and your importance as a person." Ego is not you, not your body, not your mind, not your spirit. Ego is what you think of your body, your mind, your spirit, and your position in the world. Our responsibility is to care for our physical and spiritual being, ourselves. What we are exploring is how to release what we believe about our human presence.
Our ego, our thoughts about our self, is often out of balance. Sometimes we have a much grander opinion of ourselves than reality dictates. Maybe we think we are "the best" and superior to others. For whatever reason, our opinion of ourselves is inflated. Sometimes our ego is deflated. We can't see our good and what makes us amazing. We downplay our accomplishments and our worth. Whether high or low, what is important to remember is that our ego is our self-created opinion. It is not fact. It is a thought or belief.
Surrendering the Ego
Surrendering the ego is letting go of our opinion, good or bad, of who we are. The first reason we strive to surrender our ego, is that our ego, how we think of ourselves, is often misguided. Whether we inflate ourselves or put ourselves down, our ego is based on our beliefs, not hard cold facts. When we surrender the lies we tell ourselves, we can reconnect to the reality of who we are.
The second reason we strive to surrender our ego, is we release viewing the world through our perception of ourselves and begin to see the reality of the world. We stop seeing people as actors in our play, and begin to see them fully and truly as they are. We stop interpreting events through the filter of our ego and begin to see the facts that surround us. We stop seeing the world as a reflection of our opinion and see it more clearly.
The third reason we strive to surrender our ego, is it allows us to connect to the universal. Releasing our opinion of ourselves, opens us to see the truth of who we are in and of the world. We let go of the personal entity we have created and can begin to see ourselves as part of the whole collective universal spirit. When we can release our ego, when we can release the belief that we can creating who we are, who others are and what the world is, we can surrender into the truth of life.